Welcome! Are you wondering what materials and services we have to assist you with your local procurement goals? You have come to the right place! Below you will find images of what we have to offer, both in terms of physical materials that can assist you in sourcing and promotion – as well as services that will guide you through the process of sourcing, serving, and celebrating local product.
Posters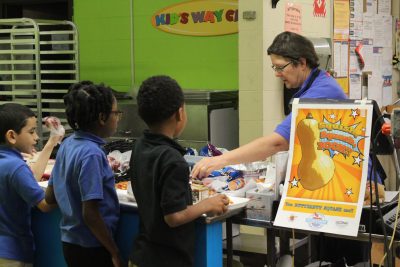 With 14 graphics to choose from, these were designed to attract students to be encouraged to eat their fresh fruit & veg! We HIGHLY recommend laminating your posters, so you can keep them and reuse them from year to year.
Dimensions: 13×9 inches, printed on glossy poster paper.
Stickers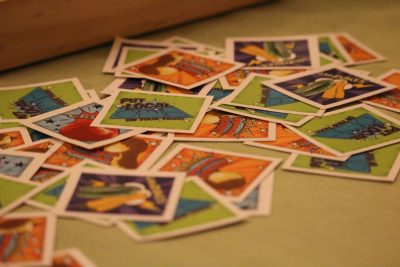 Having a Local Tray Day at one of your schools? Want to encourage students to try a certain recipe? Use these to stimulate interest at school lunch, or reward those who are brave enough try a new food and be models for other students. They can be handed out by teachers, by your staff, or at a table set up in the cafeteria promoting the taste test- whatever you have in mind!
Dimensions: 2×2 inches. They come in individual stickers.
Cafeteria Line Labels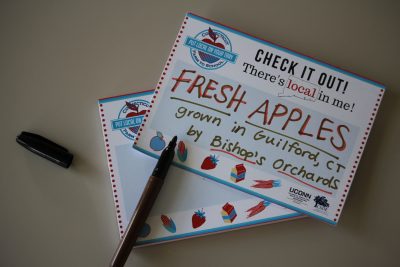 Use these to promote local on your serving line by putting the name of the product and the farm it came from. Have a basket of local apples? Place this card distinguishing it as such on the basket you serve them in! Serving something with local in it on the line? Stick this on the sneeze guard!
Dimensions: Booklets have 20 color printed sheets each, 5×7″.
Bookmarks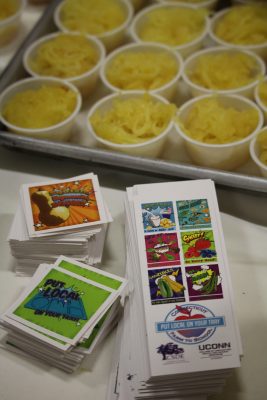 You might just be surprised at how much students love bookmarks! Hand out instead of stickers, or put out on a table during an upcoming school event with a sign about how the school is part of the Tray Program, and what that means. Encourage reading and celebrate local at the same time!
Dimensions: 6×2 glossy thick paper
Seasonal Calendar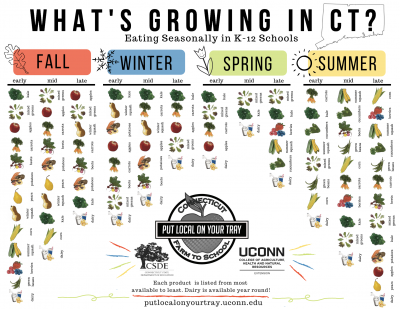 Printed on glossy card stock, the calendar uses all Tray product graphics to demonstrate what kinds of things you can find in early, middle, and late periods of each season. Use in cafeterias, for a farm to school team, in classrooms, or wherever you see fit. This tool helps teach students what is in season when, so their understanding of local comes full circle and can appreciate the work you do to source fresh products.
Farm Fresh Menu Planning Calendar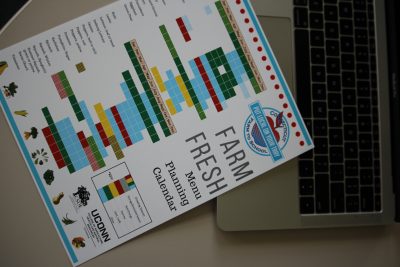 Printed on glossy card stock, the calendar uses the most commonly found local products that you may be able to source and plan into your menus. This calendar is geared for use by food service professionals, as they plan their menus with subgroups in mind. The colored bars indicating seasonality also indicate what subgroup they belong to, as well as what months they are fully in season and what months they can be found in storage (known as the 'season extension'). Use this in your office space, to keep local sourcing in mind while at work.
Farm to School Marketplace ListServ
The FarmtoSchoolMarketplace Listserv is for Farmers and School Food Professionals to connect directly. The purpose of this list is to facilitate the sale of agricultural products that become available as the season dictates. This ListServ is open to those currently participating in the Put Local on Your Tray Program, and farmers that are listed on our farmer's directory.
CT Farm Directory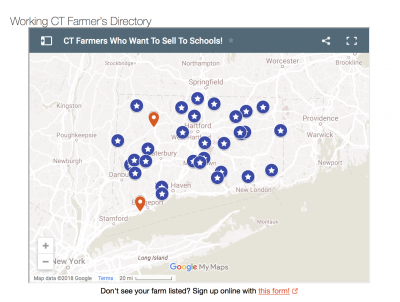 Click around this ever-changing map to see what farms are looking to break into the farm to school marketplace!  The list is constantly changing, so check back frequently. Any questions on connecting to a grower should be directed to Shannon at: sales.putlocalonyourtray@gmail.com.
Tray Cup Stickers

Perfect for labeling 5 oz serving cups, an easy and attractive way to get the attention of the students on the local products being served. Simply download the template and print onto standard Avery address label templates (1″x 2-5/8″ format) from your own computer. Download them HERE.
Farm Fresh Menu Planning Toolkit
Put together with the help of four CT Food Service Directors in four different kinds of districts, the farm fresh menu planning project is a collection of tried and true recipes that correlate with the Tray products, along with when to use them according to what's in season. Search by product, season, or celebratory event.
Procurement Tutorials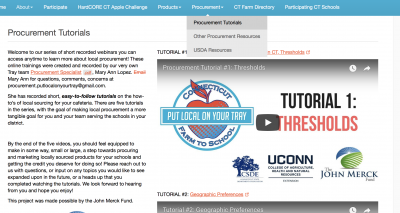 These online trainings were created and recorded by our very own Tray team Procurement Specialist, Mary Ann Lopez. She has recorded short, easy-to-follow tutorials on the how-to's of local sourcing for your cafeteria. There are five tutorials in the series, with the goal of making local procurement a more tangible goal. By the end of the five videos, you should feel equipped to make in some way, small or large, a step towards procuring and marketing locally sourced products for your schools and getting the credit you deserve for doing so!
Taste Test Kit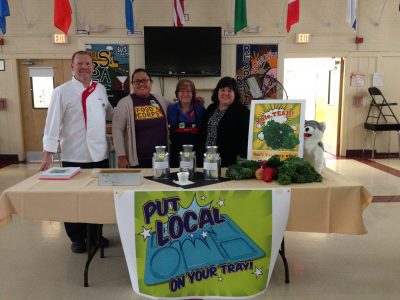 Here at our UConn Extension office in Vernon, we have a whole taste test kit that can be lent out to any interested party! Want a big banner with an official Put Local On Your Tray tablecloth, equipped with giant foam board Tray product posters, and 3 voting bins?! Contact us! We can leave it for you – or if you are brand new to taste tests, let us come out and help you get situated, so you can get a good footing to start.
Kit Includes: Foam board poster(s), table cloths (solid navy blue with a white custom Tray logo cloth), voting tins, beads for students to vote with, stickers. Please call us to get a hold of this.