Several hard-working individuals devote a percentage of their professional time guiding and implementing our program.
People step in and out of various roles depending on the availability of funding for initiatives and the seasonal nature of the work. 
Together, we strive to connect schools to farms and farmers to schools.
Chelsey Hahn, Program Coordinator
Phone: (413) 535-5524
chelsey.putlocalonyourtray@gmail.com
E-mail Chelsey
Chelsey brings a background in Public Health and has a life-long passion for education, health and the environment. Chelsey has joined our team in Winter 2019, and has helped build capacity within the program ever since!
Chelsey can assist you with any question you may have about the Tray Program including what it entails, what you want to see more of, what would be helpful for you to get local product in school cafeterias. Feel free to call or email her and she will do her best to connect you to the right people or resources. Chelsey is available for any questions or requests regarding the Tray Program.
Jiff Martin, Sustainable Food Systems Educator
Phone: (860) 870-6932
jiff.martin@uconn.edu

Jiff brings a background of coalition building and collaborating across sectors to build sustainable food systems in the state of Connecticut and across the Northeast. 
Contact Jiff Martin, the Extension Educator and backbone of the Tray Program with any questions regarding UConn Extension Collaboration. She can help you understand where to go to get the resources you need within the UConn Extension network across Connecticut.  
Shannon Raider-Ginsburg, Farmer Liaison
Phone: (860) 318-6813
sales.putlocalonyourtray@gmail.com
E-mail Shannon
Shannon brings a background in farming, teaching, and bringing people together around local food. 
Contact Shannon Raider-Ginsburg, Farmer Liaison for help locating farmers, or to be added to the Tray farmer directory or join CTFarmtoSchoolMarketplace-L listserv, which is a place for food service directors and growers to connect. Shannon can also help Food Service Directors better understand the needs of growers.  Shannon is available to help farmers connect to schools and schools connect to farmers. 
Molly Deegan, Program Assistant
Phone: (203) 824-7175
molly.deegan@uconn.edu
E-mail Molly

Molly brings a background of working with food service to build out a vision for farm to school programming. She has experience in implementing projects, organizational development, reporting, hands on education, and event coordination.
Molly is the graphic design specialist for the team, assisting with the creation of new materials, and is available for help with planning and executing special events that highlight farm to school in the cafeteria. 

Catherine Hallisey, FoodCorps Connecticut Program Coordinator
catherine.hallisey@foodcorps.org
Dawn Crayco, FoodCorps Connecticut Program Director
dawn.crayco@foodcorps.org


Catherine and Dawn partner with the Tray Program at UConn Extension to collaborate and connect FoodCorps programming to resources being created. To learn more about FoodCorps, please visit their website or be in touch directly with Catherine or Dawn regarding any questions pertaining to FoodCorps service members. 
Along with FoodCorps Connecticut, the UConn Extension team works closely with the Connecticut State Department of Education's Department of Child Nutrition to keep the program alive and growing. To learn more about the resources available from the CSDE, please visit their webpage with farm to school resources.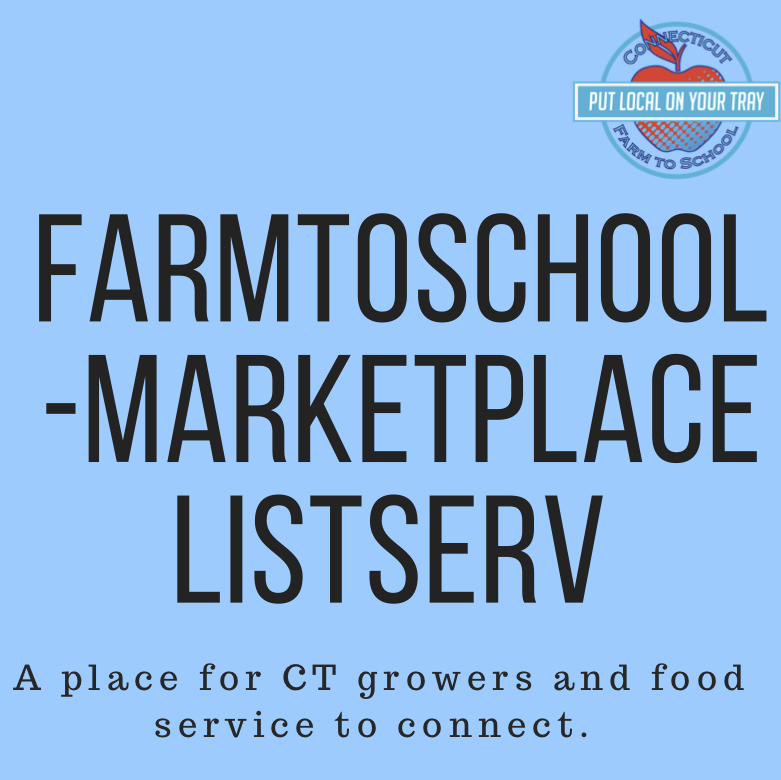 Be a part of our Farm to School Marketplace ListServ to buy and sell from CT growers.  A place to connect schools and farms.
Post what you are seeking to sell or to purchase.