Community engagement is a key piece of celebrating farm to school! We want more families to know about and take advantage of the important service you provide, and we want community partners to know about the great work you are doing.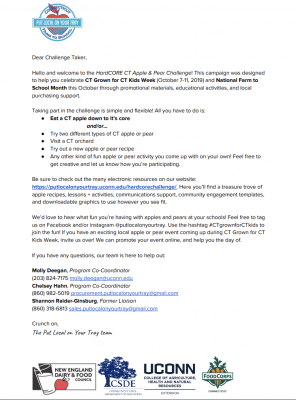 LETTER: We've drafted a template welcome letter (find it in PDF format here.pdf, or editable Word.doc format here.docx) to send out to your community partners. Feel free to edit this to suit your individual program and needs.
Here are some ways you could use the letter:
Send to PTO to solicit help out with a Local Tray Day event (community package provided to them)

Ask your local library to put together an apple & pear book table (some specific books are recommended in the activity section!) in honor of CT Grown for CT Kids Week & National Farm to School Month!

Ask your local grocery store to feature local apples in the produce section, and provide them with a small kit including a poster to hang, a flyer to get them excited, and a welcome letter with more details.