Our HardCore Crunch is one of the many activities you can participate in to Celebrate CT Grown for CT Kids Week!
October 4th-8th this year is CT Grown for CT Kids Week, which is the highlight of Farm to School month in October for Connecticut.  We are looking to celebrate our connections between students and local food, share our farm to school stories, and show gratitude to our school nutrition and farmer heroes providing essential services.  You can help spread the word about our HardCore Crunch and other ways to celebrate Farm to school by sharing about this week on Social Media, newsletters, or just sharing the link!  If you'd like some sample language that you could, keep reading!
Want to use the CT Grown for CT Kids Week graphics?  Download them here!
Draft email/ Newsletter Text
If you would like to promote the event through your emails lists or newsletters, please feel free to share the below text: 
Celebrate CT Grown for CT Kids Week October 4th-8th
The first week in October has been recognized every year as CT Grown for CT Kids Week to be a celebration of Connecticut farms, school meals, and locally produced food finding it's way to the children that attend our schools!
Farm to school enriches the connection communities have with fresh, healthy food and local food producers by changing food purchasing and education practices at schools and early care and education settings. Students gain access to healthy, local foods as well as education opportunities such as school gardens, cooking lessons and farm field trips. 
With over 5,000 farms in Connecticut, and just over 1,000 schools, there is plenty of local food we can share to feed and teach the students in our schools.  In addition to improving child health, when schools buy local, they create new markets for local and regional farmers and contribute to vibrant communities, a win-win-win scenario!
Whether you are a food service professional, a farmer, a teacher or a food-loving family, there are plenty of ways to celebrate and get involved in CT Grown for CT Kids week! Learn more about this special week, and find out how you can get involved, by visiting www.ctfarmtoschool.org/ct-grown-for-ct-kids-week 
Social Media Messaging
Feel free to use these texts and links to promote on social media. 
Suggested Hashtags for Social Media posts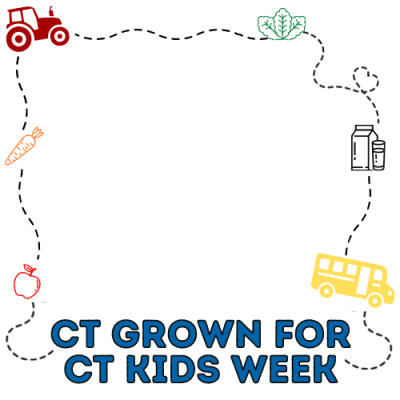 #ctgrownforctkids

#farmtoschool

#CTfarmstoCTschools

#CTschoolmeals 

#CTfarms

#CTgrown
Tag these Partners on Facebook!
@FoodCorpsConnecticut

@CTdairy

@putlocalonyourtray

@ConnecticutGrown

 

@CTPublicHealth

@ctdepartmentofeducation

 

@SNACT
Instagram/Facebook posts:
What is CT Grown for CT Kids Week? Taking place the first week of October in Connecticut, this week aims to celebrate and support local agriculture, public education and our community commitment to the importance of healthy nutritious meals in schools. Join us in celebrating!

https://www.ctfarmtoschool.org/ct-grown-for-ct-kids-week

October 4th-8th is for celebrating local CT grown produce in our schools!  This week is the perfect time to recognize the importance of getting Connecticut grown products into school meals to improve child nutrition, support local economies and educate children about the origins of food. How will you celebrate?  Find out more here:

https://www.ctfarmtoschool.org/ct-grown-for-ct-kids-week

CT Grown For CT Kids is: kids cooking, school gardens growing, farmers thriving, and school nutrition staff being celebrated! Join us as we get local with our schools and celebrate all the wonderful CT products that are featured in classrooms and cafeterias!  Find out more here:

https://www.ctfarmtoschool.org/ct-grown-for-ct-kids-week
For all Social Media: