Welcome to the
HardCORE CT Apple & Pear Challenge Toolbox
One way to celebrate CT Grown for CT Kids Week this October 7-11, 2019 is by participating in the 3rd annual HardCORE Apple and Pear Challenge! (Yes - this year, we're encouraging you to try local pears, too!)
To take part, all you need is a #CTGrown apple or pear and eat it down to its core!
Some fun ways of celebrating include…
Try at least 2 different types of #CTGrown apples or pears - or one of each!
Take a trip to a local orchard!
Any other apple or pear activity that connects students to local food - get creative!
By participating, you are promoting some of the most readily available local products in the fall in a fun and simple way that can easily engage the entire school community. Oh, and all of October is National Farm to School Month, in case you want to celebrate all month long!
Poke around our site to see access our fun resources and free downloadable graphics to help you celebrate.
Post a photo and tag #CTgrownforCTkids so we know what you're up to!
Crunch on, CT!
If you have any questions, please contact us!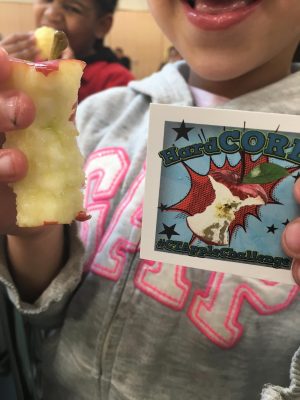 Promotional Materials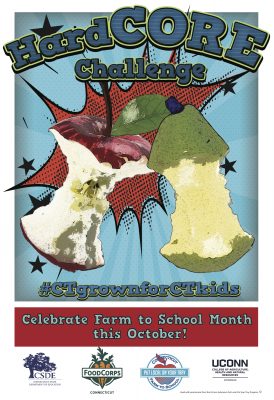 Ideas for use:
---
Ideas for use: 
---
Ideas for use:
---

Ideas for Use:
---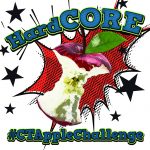 Ideas for use:
Serving Up Local! But...How?
Finding local produce and making sure you follow USDA procurement guidelines isn't an easy task, so we've pulled together some tools to make it easier for you to find local apples this fall.
Understanding Local Procurement
Tools to Connect Directly to Farms
CT Farm to School Farm Directory: Are you a school nutrition professional looking to partner with a local farm? See what growers in your area might have signed up to be listed on our farm to school map directory. These are growers specifically looking to partner with local schools and will be pleased to hear from you!

The FarmtoSchoolMarketplace Listserv

: for Farmers and School Food Professionals to connect directly. The purpose of this list is to facilitate the sale of agricultural products that become available as the season dictates. For more information, check out this page.
Staff Assistance! Tray Farmer Liaison: Looking for a farm to connect to but feeling overwhelmed? Contact Shannon Raider-Ginsburg for assistance at sales.putlocalonyourtray@gmail.com and she can help you out 1-on-1 connect to a grower in your area.
HeartCTGrown: For everyone to use! Check out this site of farms, farm stands, pick your own operations, and farmer's markets in each county if you're simply looking for a farm to visit or purchase from yourself. Like HeartCTGrown on Facebook, too!
Farmers Market Trail: Check out the site (or their Facebook page) for a few options of farmer's markets to visit or sign up for the newsletter for some updates on the markets listed as part of the trail. We encourage anyone to get to a market to meet some farmers, ask some questions, and get some fresh and delicious food that supports a family in your community!