[Español abajo]
UConn Extension's Put Local on Your Tray is partnering with the CT Department of Public Health to improve access to local foods in eligible ECEs by providing support, training, and resources needed to implement a comprehensive Farm to ECE Program. This program will boost local procurement, introduce new experiential nutrition education opportunities, and foster connections between ECEs and local farmers.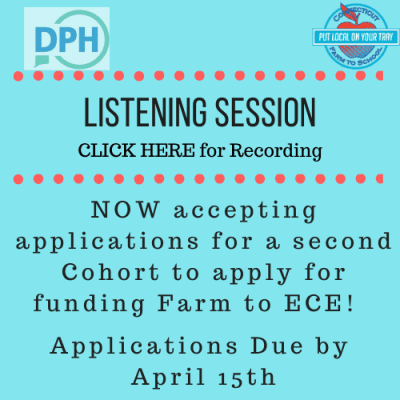 We are enrolling a second cohort to receive funding for this program! We are accepting applications for innovative Farm to Early Care and Education (ECE) projects that strengthen relationships between children and nutritious, locally grown food. Participants will be selected through a competitive process. Due date extended to April 15, 2021
Put Local On Your Tray (ponga lo local en su bandeja) de La extensión de UConn colabora con el Departamento de salud pública de CT para mejorar el acceso a las comidas locales en programas elegibles de cuido y educación infantil (ECE's, por sus siglas en inglés) brindando respalda, capacitación, y recursos necesarios para implementar un programa completo De la granja a la ECE. Este programa aumentará el suministro, introducirá nuevas oportunidades de la educación de la nutrición mediante la experiencia, y fomentará conexiones entre las ECE's y los agricultores locales.
¡Un segundo grupo ya se puede inscribir para recibir fondos para su programa! Aceptamos aplicaciones de proyectos innovadores De la granja al cuido y educación temprana (ECE, por sus siglas en inglés) que fortalezcan las relaciones entre los niños y los alimentos nutritivos cultivados localmente. Se seleccionarán los participantes a través de un proceso de competencia. Fecha de vencimiento extendida al 15 de abril de 2021
Visita los ENLACES abajo -
Pautas e instrucciones para la solicitud del programa en
ESPAÑOLENLACE A LA SOLICITUD EN ESPAÑOL:
https://www.surveymonkey.com/r/F2ECE2021SP
__________________________
This program is accessible through Go NAPSACC. Go NAPSACC is a trusted online tool that helps early care and education (ECE) programs go the extra mile to support children's healthy eating and physical activity. Farm to ECE is the newest module of Go NAPSACC and is available to you now!
This project has been funded at least in part with federal funds from the U.S. Department of Agriculture. The contents of this publication do not necessarily reflect the view or policies of the U.S. Department of Agriculture, nor does mention of trade names, commercial products, or organizations imply endorsement by the U.S. Government. USDA is an equal opportunity provider, employer, and lender. Made possible in part with funding from the Centers for Disease and Prevention.
Click HERE to learn more about how to enroll in Go NAPSACC..pdf
For more information and updates to this program please check back here or reach out to jennifer.vinci@ct.gov.